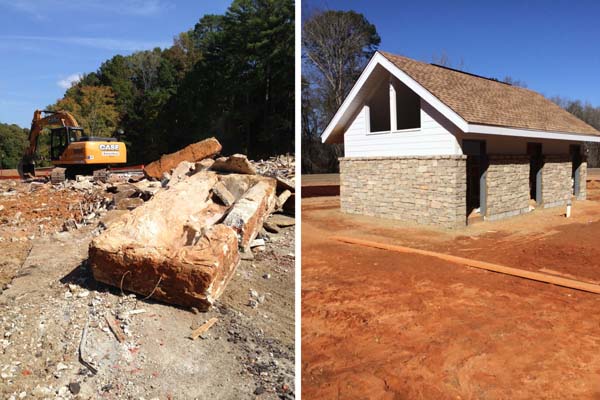 SCOPE OF WORK: The Paramount Construction Group team was contracted to demolish an abandoned gas station in the Jeff Busby Park near Ackerman, Mississippi, and replace it with a Comfort Station, including men's and women's restrooms, and a new parking lot with concrete sidewalks, curbs, gutters, and islands.
The necessary equipment needed to demolish the existing facilities had to be brought in via the Natchez Trace with a special permit.  After the existing structures, utilities and asphalt were removed, the site required undercutting and installation of a stone base. Additional project requirements included grading and erosion control, concrete foundation, wood framing, bathroom partition and tile installation, metal door frames and doors, mechanical, electrical, plumbing, asphalt paving and asphalt shingle roofing.
A central challenge in this project was the remoteness of the work site, which required extensive logistical planning for materials and equipment delivery.