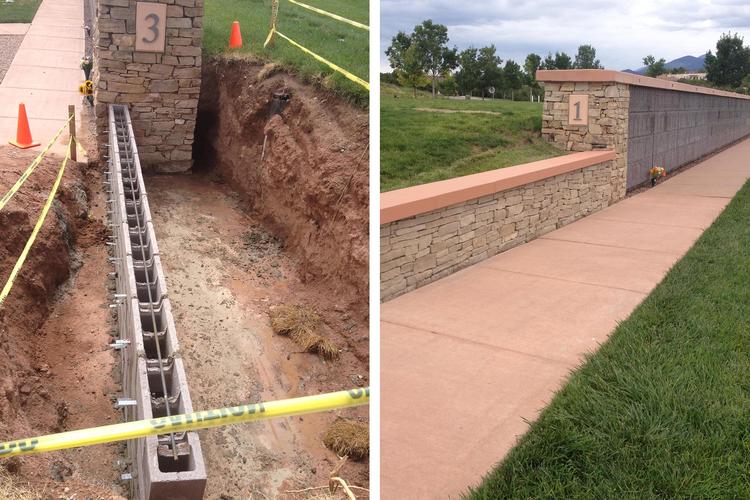 SCOPE OF WORK: Paramount was contracted to install 5 retaining walls at the Santa Fe National Cemetery. The PCG team began with excavation for the installation of the concrete footings. Once footings were placed, Paramount installed rebar and CMU blocks. A subcontracted mason then performed the placement of a natural stone veneer. This process was repeated for the five different locations within the cemetery, with each time coordinated with the COR so the activities were parallel with the cemetery's schedule. Finally, any disturbed sod was replaced.
Structural and landscaping retaining walls help add stability to numerous kinds of structures, and provide erosion protection by securing and reinforcing soil and substrate.
Paramount Construction Group is skilled in the various designs of retaining walls – gravity, cantilever and piling – and can subcontract a structural engineer if our client's local building codes require one. Paramount ensures that the appropriate type of retaining wall is chosen for each project, and methodically performs the crucial tasks required for durable retaining walls, such as suitable compaction of the soil, proper drainage and, when needed, the use of soil-reinforcement geogrid systems.
PCG also offers a selection of materials, depending upon the type of site stabilization that is needed, including Block Retaining Walls, Stone Retaining Walls, Poured Concrete Retaining Walls, and Timber Retaining Walls.